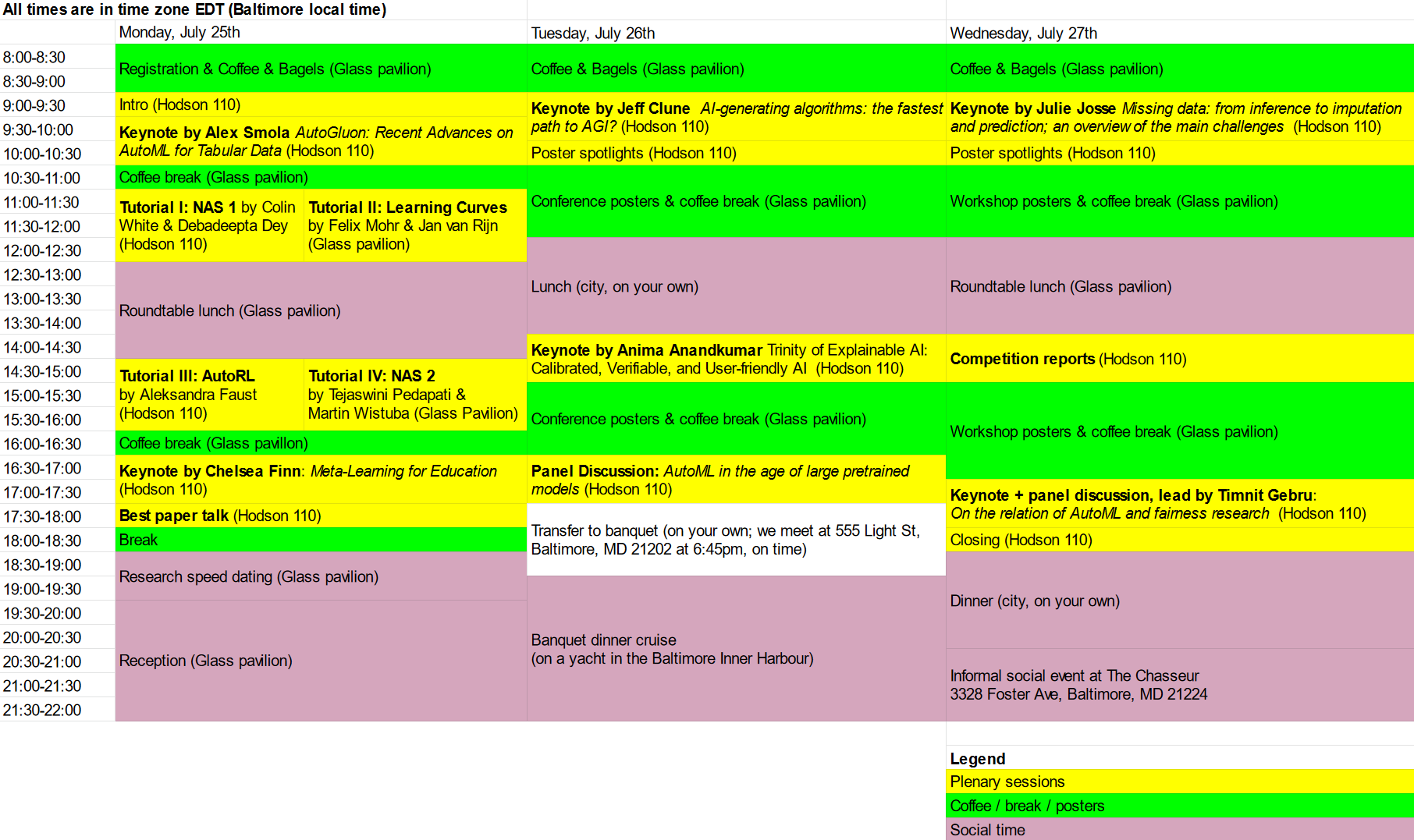 The plenary sessions (marked in yellow) will be streamed on Zoom to virtual-only attendees. Poster sessions and networking events during the conference will focus on in-person attendees, but we will host an additional virtual tutorial and virtual poster session on the Monday after the conference (August 1st, 8:30-1000 EDT and 10:00-13:00 EDT, respectively). For more information on this, please see this webpage.
We aim to emphasize interactive elements, both traditional (poster sessions, coffee breaks, reception and banquet) and more experimental (research speed dating and roundtable lunches; please see below for brief descriptions). These will be complemented by relatively few plenary sessions (keynotes, tutorials, etc), no longer than 90 minutes in a row.
Here is a brief description of the individual elements:
Informal social event: 8:30-10pm at The Chasseur, 3328 Foster Ave, Baltimore, MD 21224. The reservation is upstairs, under "AutoML Conference"
Roundtable lunch. See Social Program.
Research speed dating. See Social Program.
Reception. See Social Program.
Banquet. See Social Program.
Coffee and bagels. We will provide coffee and bagels each the morning to get ready for the day, and to facilitate informal meetings.
Keynotes. We'll have six exciting keynotes, by Anima Anandkumar, Jeff Clune, Chelsea Finn, Timnit Gebru, Julie Josse and Alex Smola.
Panels. We'll have two interactive panel discussions: on the relation of AutoML and fairness research; and AutoML in the age of large pretrained models.
Tutorials. We'll have several tutorials; we scheduled these for the first day to allow participants to learn about some new topics at the start of the conference.
Poster sessions. On Tuesday, we'll have the conference posters up all day, with two poster sessions to allow for in-depth discussions at the posters. On Wednesday, we'll have the workshop posters and posters by competition winners up all day, again with two poster sessions. During all poster sessions there will be coffee.